Samsung's Galaxy Buds line has covered a wide range of experiences in the last little while, from the excellent Galaxy Buds Plus to the… ah, not excellent Galaxy Buds Live. Now the Samsung Galaxy Buds Pro has arrived, and shows every indication that the company has moved on from its bean-shaped folly.
Rubber tips can go a long way in improving noise cancelling, but are they enough to make these a worthy follow-up?
Editor's note: this Samsung Galaxy Buds Pro review was updated on December 24, 2021, to address the JBL Reflect Flow Pro as an alternative that works across operating systems.
Who is the Samsung Galaxy Buds Pro for?
Everyday listeners who want something straightforward.
People who want something stylish for their workouts.
Who shouldn't get the Samsung Galaxy Buds Pro?
Those with significant nickel, acrylate sensitivities or allergies will potentially be exposed to the materials via the earbuds—however unlikely it is. Some users have reported discomfort and reactions to recent Samsung earphones with these materials. Reportedly, Samsung has been investigating the matter and assisting customers who report troubles to them directly. However, the earphones in question aren't the only ones with this exposure potential, so if you're sensitive to these materials, please be mindful of your return policy no matter what you buy.
What is it like to use the Samsung Galaxy Buds Pro?
If you have much experience with previous entries in the Galaxy Buds line, the Samsung Galaxy Buds Pro will seem pretty familiar. In a lot of ways, these true wireless earbuds feel like a mash-up of the Galaxy Buds Plus and Galaxy Buds Live. The glossy metallic paint job of the Galaxy Buds Live is back, this time in silver, black, and violet. The beans' clamshell-style charging case also makes a return. The case is pretty small, but it feels sturdy, and the buds fit snugly in it, secured by magnets (and it can charge wirelessly, too).
Start here: What makes a good set of in-ears?
However, where the Galaxy beans diverge from previous models' in-ear designs, the Samsung Galaxy Buds Pro harkens back to them. These are very similar in shape and size to the Galaxy Buds and Galaxy Buds Plus, only with smoother edges and a more pronounced split between the matte and glossy sections. The earbuds still have fin-like protrusions for stabilization, but they're much smaller and less pronounced. Regardless, these earbuds still feel secure.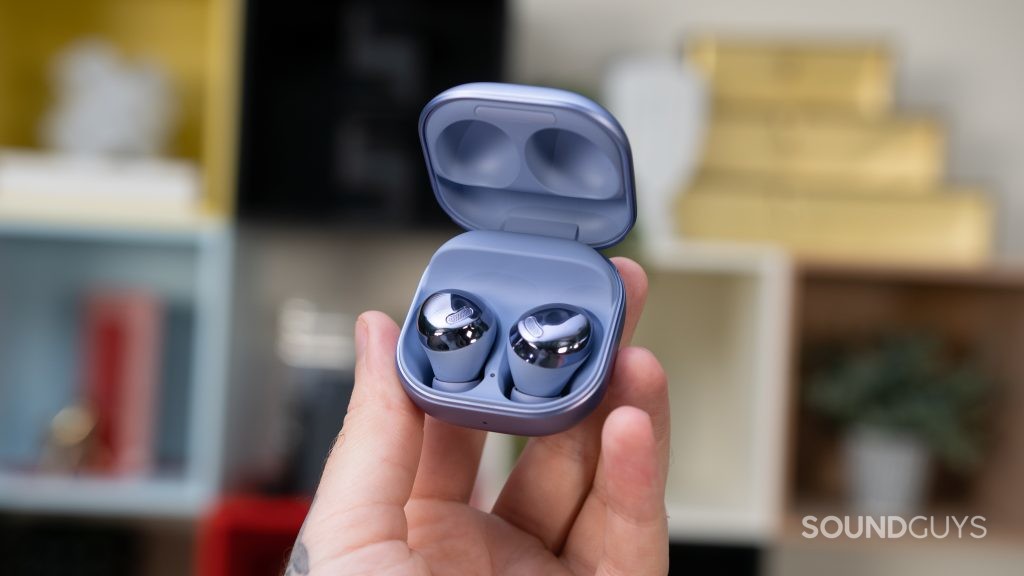 The grates on the outside of each bud are the microphones for noise cancelling.
These true wireless earbuds offer a lot of the same features you'd expect from the more premium side of the market. The Galaxy Buds Pro brings the active noise cancelling (ANC) first introduced by the Galaxy Buds Live, and this design seals to the ears this time, it actually works. Establishing a decent seal is pretty easy—especially with the various included silicone ear tips.
Once you find the right size of rubber tips, these earbuds fit securely, and you shouldn't struggle with them falling out during a commute. Similarly, the buds feel just as secure while exercising, though long-distance runners may put that to the test with excessive jostling. Speaking of exercise, these are also IPX7 rated for sweat resistance, so they'll hold up to just about whatever you can throw at it in the gym.
The Samsung Galaxy Buds Pro uses Samsung's Galaxy Wearable app for many of its features. This is where you can access the noise cancelling features, turn on ambient sound, set or turn off touch controls, try different EQ profiles, and more. The noise cancelling function has a high and low setting, and you can swap between them at will. Included EQ profiles like Bass Boost, Soft, Dynamic, Clear, and Treble Boost are nice, though unfortunately there's no option to set your own. The app also lets you turn on settings like automatic voice detection and seamless earbud connection, which lets the Galaxy Buds Pro swap between paired audio sources more easily (provided they're signed in to your Samsung account).
Related: Samsung Galaxy Buds Plus vs Samsung Galaxy Buds Live
The Galaxy Wearable app also offers something new for Samsung earbuds: 360 Audio. Much like the spatial sound offered by the Apple AirPods Max, or one of the many virtual surround sound standards you'll find supported by various gaming headsets, 360 Audio creates a virtual surround sound environment with head tracking for media consumption using Dolby Atmos. You can only use it when paired with a Samsung Galaxy phone or tablet, but when you are, you can access surround sound while using streaming services like Netflix, Hulu, Disney Plus, and Apple TV Plus. If you don't have a Galaxy device to pair with, you're pretty much out of luck.
How do you control the Samsung Galaxy Buds Pro?
Each Samsung Galaxy Buds Pro earbud features a touch-sensitive panel on the side that covers the typical range of playback controls. Tapping either earbud once starts or stops the music you're playing, double-tapping skips a song, and triple tapping goes back. By default, you can raise and lower the volume by tapping and holding the right and left earbuds respectively, but you can change that feature in the Samsung Wearable app. The also lets you shut off touch controls entirely, if that's something you want.
It all works pretty smoothly. I have yet to run into any issues with touch detection. In fact, the controls are maybe a little too sensitive. Almost every time I adjust the Samsung Galaxy Buds Pro—whether that's taking them out, putting them in, or just wiggling them a bit to get the fit right—the earbuds react by either pausing what I'm listening to, or playing music over whatever I'm doing.
| Input | Command |
| --- | --- |
| One tap | Play/pause |
| Two taps | Track forward/answer call/end call |
| Three taps | Track back |
| Touch and hold | Decline call/activate preset feature |
Most of the time, it's not really a big deal, but these earbuds react a little oddly when your device has more than one media source open or suspended at once. Tapping or nudging the earbuds while watching Youtube does nothing, but tapping while watching videos on less popular apps like Dropout will trigger music from Spotify to play over the video. Obviously, this isn't something tons of people will run into, but don't be surprised if a rogue tap sends music blaring into your ears over whatever else you're listening to.
What Bluetooth codecs does the Samsung Galaxy Buds Pro support?
The Samsung Galaxy Buds Pro uses Bluetooth 5.0, and supports three Bluetooth codecs: SBC, AAC, and the Samsung Scalable Codec. Samsung's proprietary codec effectively functions like aptX adaptive, and constantly adjusts the transfer rate. This codec makes adjustments to improve both audio quality and connection stability, so it should keep things sounding as good as possible all time. iPhone users can enjoy consistent high-quality audio over the AAC Bluetooth codec, too.
Just like the Samsung Galaxy Buds Live, and the Samsung Galaxy Bud Plus before them, the Galaxy Buds Pro can be used in mono mode with either earbud. This is a great feature for anyone who lives with a hearing impairment.
Additionally, the Samsung Galaxy Buds Pro can automatically switch between any Samsung Galaxy device without manual intervention. If you want to go from listening to music on your Samsung Galaxy phone, to watching TV from your Galaxy tablet, just turn on auto-switch in the Bluetooth settings of your Samsung Galaxy device (and remember that seamless connection setting the wearables app). All your Galaxy devices must be associated with the same Samsung account for this to work.
How long does the Samsung Galaxy Buds Pro battery last?
On its website, Samsung claims these earbuds will last up to 5 hours on a single charge, with about 13 hours of additional charge in the case, and in our testing, we found that wasn't far off. At a consistent output of ~75 dB(SPL), the Samsung Galaxy Buds Pro can last up to 4 hours, 48 minutes with ANC turned on. The case also definitely has enough juice for a few charge cycles.
Learn more: How long do AirPods last, and can you make them last longer?
While this kind of battery performance isn't terrible, it's a far cry from the best around. That's a little disappointing, given that the best around in this respect is the Samsung Galaxy Buds Plus, which offers more than double the battery life—admittedly, the lack of ANC no doubt helps the older model last quite a bit longer. This performance is only a few minutes shy of the Galaxy Buds Live, so not too far out of our expectations.
How does the Samsung Galaxy Buds Pro sound?
The Samsung Galaxy Buds Pro offers very accurate audio output. There's a notable boost in bass range sound, and a spike in the very high range, but otherwise everything should sound pretty much like it's supposed to. For the most part, a frequency response like this means music should sound great pretty much all the time. Every now and then, you may notice particularly bass-heavy tracks make some vocals a little less clear because of auditory masking. However, that kind of bass boost is pretty well within the norm for more consumer-friendly headphones, so you'll probably only notice it when bass comes through with a bit more oomph.
Lows, mids, and highs
The Black Sabbath anti-war classic War Pigs sounds great on the Samsung Galaxy Buds Pro. Geezer Butler's bass noodling over the droning crush of guitar at the beginning of the song comes through clearly, and continues to do so even as Tony Iommi's guitar playing gets louder and more dominant throughout the rest of the song.
Even on the normal EQ setting, the increased bass makes for a more consumer-friendly sound.
The accurate mids mean the warbling tones that play underneath the affected piano in Modulogeek's One Day We'll be Okay (2:45) come through clearly, despite the difference in relative loudness. However, the clapping noise that starts a little over halfway through the song (4:45) comes through very loudly, to the point of being a little unpleasant to hear.
Does the Samsung Galaxy Buds Pro have good noise cancelling?
The Samsung Galaxy Buds Pro offers pretty much standard isolation for a pair of true wireless earbuds with rubber tips, which is to say: it's pretty good. Turns out sealing the ear improves isolation—go figure—and good isolation is generally more important for keeping high-end, dynamic sounds out. The buds also sport two active noise cancelling settings, which you can toggle between in the Galaxy Wearable app. Both of these settings offer better noise cancelling performance than most true wireless earbuds, but the high setting offers a rather large boost to bass range attenuation, admittedly at the expense of mid-range performance.
ANC performance like this means you shouldn't have any trouble with the typical engine hum of a bus, or any low-end ambient noises you run into outside. Both ANC settings struggle with things like nearby speech compared to over-ear options like the AirPods Max or the Sony WH-1000XM4, but these earbuds should still offer some level of noise cancelling there too.
How is the microphone on the Galaxy Buds Pro?
The Samsung Galaxy Buds Pro features a very good microphone for a pair of true wireless earbuds. From a frequency response perspective, the mic is very accurate, offering neutral-leaning output across the vocal range. There's still a little bit of muffling due to it being an embedded microphone, but not nearly as bad as many other options on the market. Additionally, the microphone actually does a pretty good job cutting background noise out if you're far enough away. Listen for yourself:
Loading poll
Samsung Galaxy Buds Pro vs Samsung Galaxy Buds 2: What's the difference?
The Samsung Galaxy Buds 2 isn't just a watered-down version of the Buds Pro. In our Galaxy Buds 2 vs Galaxy Buds Pro article, we see that the cheaper Buds 2 has slightly better ANC, though with a less secure fit. To make up for the slippery design, Samsung provides the ear tip fit test, which you don't get with the Buds Pro.
The Buds 2 features a less promising IPX2 rating and lacks 360 Audio support, but, again, what it does have over the Galaxy Buds Pro is a more reasonable price. Samsung originally retailed the Buds 2 for $149 USD. Each Buds 2 earpiece has a touch panel for you to control playback, take calls, and more—and yes, the touch controls are hypersensitive here too.
Related: The best true wireless earbuds under $200
Like the Galaxy Buds Pro, the Galaxy Buds 2 isn't supported on the iOS Galaxy Buds app, so this is really a pair of earbuds for Android phone owners, more specifically Samsung phone owners. Listeners who are considering the Galaxy Buds 2 are better off saving for the Galaxy Buds Pro, which costs just $20 more and often goes on promotion anyway.
Should you buy the Samsung Galaxy Buds Pro?
If you want a pair of good noise cancelling true wireless earbuds and you don't want to cross that magical $200 line, you should consider the Samsung Galaxy Buds Pro.
The Samsung Galaxy Buds Pro are great true wireless earbuds. They're comfortable, they sound great, and they offer solid noise cancelling performance. At $169 USD, these are a little on the pricey side, but far cheaper than competing products like the Apple AirPods Pro, Amazon Echo Buds (2nd Gen), and Sony WF-1000XM4, and they pretty much offer all the same features (and better noise cancelling). The lack of a codec like aptX is a bummer, but the Samsung Scalable Codec covers for it nicely.
However, it's worth noting that these are considerably more expensive than previous Galaxy Buds products, which might still be worth considering. If noise cancelling isn't something you really care about, the Samsung Galaxy Buds Plus still has the best battery life on the market for a pair of true wireless earbuds, and they're easy to find for less than half the price these days.
All prices listed in USD unless otherwise specified. Prices may change over time, and vary by region. Unfortunately, we cannot list Amazon prices on the site, as they vary greatly by currency.
Ultimately, if you want a premium true wireless experience, the Samsung Galaxy Buds Pro might be one of the cheapest ways to get it. These buds check off most of the boxes you'd want, and execute on them solidly across the board.
Next: Best Apple AirPods Pro alternatives
What should you get instead of the Samsung Galaxy Buds Pro?
There are plenty of viable alternatives to Samsung's lead noise cancelling earbuds, and one of the most obvious competitors: the Apple AirPods Pro. Apple's noise cancelling isn't quite as effective as the Galaxy Buds Pro, but it's a much better fit for iPhone owners, and certainly a better fit than the AirPods (3rd generation). In the same way that Samsung limits some of its software to Samsung Galaxy hardware, Apple does the same with its AirPods software features.
There's also the Sony WF-1000XM4 which compares well to the Galaxy Buds Pro. With Sony's earbuds, you get access to its 360 Reality Audio, which is similar to Samsung 360 Audio, it's targeted more towards music lovers, rather than movie fans. You can take advantage of this standard through premium streaming services like Tidal, Deezer, and Nugs.net. The earbuds feature a more mature design and secure fit, but they're a bit pricier than the Galaxy Buds Pro.
See: Apple AirPods Pro vs Amazon Echo Buds (2nd Gen)
If you want to look beyond Apple and Sony, consider the JBL Reflect Flow Pro for its more durable IP68 rating, ear tip fit test, custom EQ, and OS agnostic experience. The Bose QuietComfort Earbuds is another fine option that merits an IPX4 rating and is comfortable for all-day wear. On the other hand, the Jabra Elite 85t takes a business-friendly approach to earbuds. You can connect the Elite 85t to two source devices at once, making it a great productivity tool. If you're an audio tinkerer, you'll enjoy Jabra's five-band EQ module in its mobile app, available on both Android and iOS.
Frequently Asked Questions
Is it worth upgrading from the Samsung Galaxy Buds Plus?
Samsung Galaxy Buds Plus owners may want to upgrade to the Galaxy Buds Pro for the effective noise cancelling technology. Other benefits include Samsung 360 Audio, which works with any Dolby Atmos content when played from a Samsung Galaxy device (One UI 3.1 or later). If neither of those things appeal to you, and you don't care for the more water-resistant build of the Galaxy Buds Pro, save some money and stick to the Galaxy Buds Plus. The Buds Plus still have some of the best standalone battery life around, and support many of the same features as the Buds Pro.